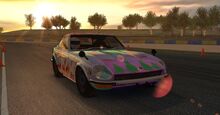 Crew to be confirmed
"
"My name says Lambo but I'm a huge Ferrari fan...but my profile pic's a Koenigsegg😂😂."
"
— Speedthrift 1/25/21
What I'm working on
I'm currently working on getting power 2 stats together! Link to the page: https://rr3.fandom.com/wiki/User:LamboCoin_Cars/Power_2_Car_Stats#
About Me
I'm LamboCoin Cars, and although my name says Lambo, my favorite team is Ferrari.
I've known Real Racing 3 for approaching 4 years now, playing from June 2017-April 2018, and then again since the beginning of 8.0 in November 2019. I play quite frequently, winning almost every new car and farming every day if possible. In addition, if the best car is given to me, I can pull off a Group A, if not, a very high B.
I have known the wiki since January 2018, but started editing in May 2020. I tend to create a lot of data spreadsheets, sometimes overloading. I strive to do the best I can in the game, but also use my experience and skills to help others improve. I also love customizing my garage, and sometimes get some people I know involved to create some spectacular liveries.
Some of my statistics
First played June 18th, 2017
First car: Ford Focus RS
Elite Status achieved on June 29th, 2020
Level 200 achieved on November 8th, 2020.
Level 250 achieved on May 3rd, 2021.
Career progress: 55% Motorsports: 51% Road Collection: 55%
Best WTTT Result of 2020: Bentley Continental GT3 (Fully Upgraded), 1:00.967, 91st globally, upper 35% of Group A at Hockenheim National, on November 16th-23rd, 2020.
Best WTTT Result of 2021: Bentley Continental GT3 (Fully Upgraded), 1:31.357, 62nd globally, upper 25% of Group A at COTA GP Circuit, on April 5th-12th, 2021
Best OMP Result of 2020: Nissan 240Z (Fully Upgraded), 1322 points, 22 gold, 77th globally, from November 30th-December 7th, 2020.
Best non fully upgraded OMP Result of 2021: Lamborghini Diablo SV (5353333), 1304 pts, 21 gold, 17th globally*, from May 17th-24th, 2021.
Best fully upgraded OMP Result of 2021: Brabham BT62, 1395 pts, 24 gold, 11th globally*, from June 7th-14th, 2021. (It could've been more, I was robbed of 400pts due to servers from 1480pts. With my pace, I could've been 2nd, 1480 would've got me 4th, and I was the world's pacesetter at Nurburgring and Hockenheim. It is my best result ever, but honestly, I'm gutted.)
Level (as of June 15th, 2021): 264
Cars in Garage (as of June 15th, 2021): 240
Time played (as of June 15th, 2021): ~99.5 days (could reach 100 on my 4 year anniversary of playing RR3!)
Record new cars in an update: 19 (Cars 159-177, Update 8.6 in Summer 2020)
My Journey with Furai Rising (7/29/2017-4/13/2021)
I played this event as my first SE in July 2017, nearly 4 years ago. Didn't win due to resources.
I missed out on two retries for this car, both flashbacks.
When I came back in late 2019, this was my first archive to pop up. In December, I put upgrades and all on it, but I didn't win, due to skill set at the time (I also didn't bot slow at the time, forgot about it!). 170 gold down the drain.
When the sale popped up, I was not sure where it'd be in my archives. But after I completed the 936/77 archive today, I saw Furai Rising right after the NSX GT3. So I decided to risk skipping the NSX GT3 for the Furai, since the Furai is on sale. To be safe, I put on Tier 3 Engine and Tires (I had 1332321 before, now 3332323). I blew through the event in one night, and faced my arch nemesis of Real Racing 3, the final 3 events of stage 8. After rewatching the very same videos that I failed at in December 2019, I plucked them off my list today, and with that, won the Furai.
Now that I know about bot slowing, and my skillset has improved from D to A, it was a pretty easy event, with a couple of medium level goals in 8.3-8.5.
But the journey behind this event has a back story lasting since July 29th, 2017, and I'll admit, winning the Furai today after 1,355 days since I first drove it, it feels quite emotional.
The previous record was held by the Lamborghini Super Trofeo. On February 4th, 2021, after 1,178 days since first driving November 14th, 2017, I got the car in my garage. The Furai broke that record by 172 days.
WTT/OMP Stats
Link to my WTT/OMP Stats: Page in progress
Community content is available under
CC-BY-SA
unless otherwise noted.