Choosing Drivers allows players to select a team, a driver, and "level them up" by competing in events and earning experience points (XP). This will give a deeper integration and freedom for players to experience the game, keep their favorite drivers, choose how and when to level them up, and still earn cars for their in-game collection.


Drivers level up by driving.
 
Drivers within the same group (i.e. Formula E) have the same number of levels.
 
Drivers level up individually, not per team.
 
More experienced drivers give more boosts to all stats.

 
Tuning
"
Tuning Setups
Install a unique Tuning Setup to improve your motorsports cars! Complete Special Events to earn Tuning Setups and use them on any car withing the same Motorsports Season to improve its PR
"
Tuning and Drivers replace Upgrades. In 8.5, Tuning will be available in Special Events such as Race Days. Similar to the way you are used to playing, players will need a set amount of car power (or PR) in order to complete the event. This includes your Tuning and Driver stats. Levelling up your Driver will reduce the amount of Tuning needed for events.

Earn a Motorsports car in a Special Event, then race it again in future events. Tune your car for each Special Event you enter and improve your car's in-race performance. Note that the performance increase from Tuning is specific to each Special Event.

Tuning will consist of 4 stats: Top Speed, Brakes, Acceleration and Grip.

Players can tune up to 8 times per stat.
 
PR gates will be somewhere between 5-7 Tunes per stat, depending on the event.
 
Players can choose to over or under tune specific stats, in combination with Driver level ups, to get to the required PR.
 
All Tuning costs will be in M$ and will include wait timers. Wait timers will scale depending on the cost of the tune.

 
Team Select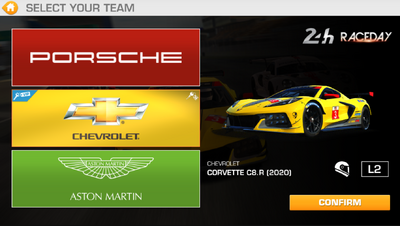 Cars using Tuning can be used in multiple Special Events. For example, players can choose the same Formula E car they used in the 8.5 Berlin e-Prix in the 8.6 Formula E event that will be coming soon. An additional Endurance event will also be coming in 8.6 for your Le Mans collection.

Players choose their favorite team or car.
 
Each team has a single car associated with it.
 
In the Team Select screen, Owned and VIP cars will appear as such.

 
Driver Select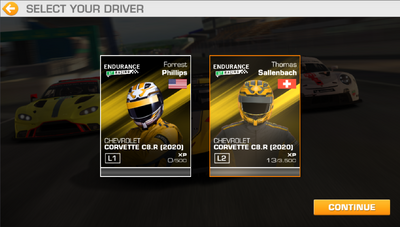 Players choose a driver once they have selected a car.

If the player has not used the car in a previous event, no driver will be selected.
 
If the player has used the car in a previous event, the driver with the highest XP will be pre-selected.

 
Tuning screen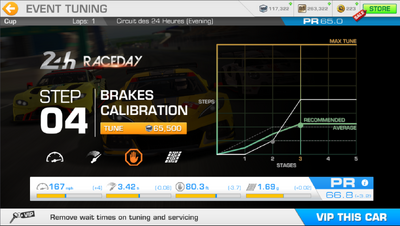 There are 4 tuning categories:

Gearbox Mapping for Top Speed.
 
Power Unit Optimization for Acceleration.
 
Brakes Calibration for Brakes.
 
Suspension Adjustments for Grip.

 
Each category corresponds to a Car Stat


Adding a Tuning step increases the corresponding car stat.
 
Tuning can be purchased for the currently selected category with the Tune button.
 
Buying Tuning starts a timer, visible on the Tuning screen.
 
Tuning steps are added once the timer is complete or skipped.
 
When the timer completes, if the player is not on the Tuning screen, a popup will appear alerting the player that it is complete.
 
Tuning is specific to each Special Event and does not carry over to the next event, regardless of how much Tuning was added in a previous event.
 

This means tuning resets with each new Special Event you play
 

The car can be VIP'd
 

This removes Tuning and Servicing wait times for the car, including in subsequent Special Events you may use the same car in.

 
Graph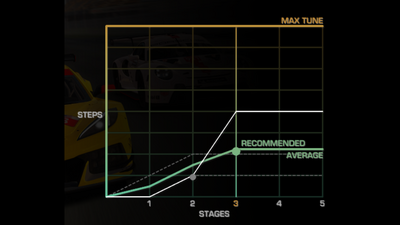 When you tune your car, you will see a graph. The graph represents the current state of the player's tuning and some other information.
The lines show:


White: Current and historical Tuning for the currently selected stat
Dotted: Current and historical Tuning for the other 3 stats
Green: The Average of your current and historical Tuning for all 4 stats
There is also a "recommended" marker representing the suggested Tuning to complete the current stage.
This is recommended because, depending on how levelled up your driver is, you may not actually need to tune to that point in order to meet the PR gates set for the Special Event.

 
All four Power Tunes contribute to the average. If a player were to tune each stat in a stepwise fashion, one at a time, you would get a balanced tune. However, players need not tune in this way. Instead, players can change the balance of car performance for each Special Event.

For example, for Le Mans, tuning the Gearbox over the other features increases the car's Top Speed to take advantage of the straights. As always though, overall performance is a balance of all factors. This choice overweights top speed, but braking is underweighted, so the overall balance and average might end up lower.


Stat Bar

When you tune your car, the stats and PR values turn blue.
 
The value shown is the current stat value, including power added by Tuning.
 
The small number next to the stat shows the amount of power added by Tuning.
 
The blue section of the stat bar shows the amount of power that is contributed by Tuning.
 
PR works in the same way.

 
DRIVERS

Choose a driver and get behind the wheel of a Motorsports car, then improve their abilities as you drive - a new way to permanently boost your car's performance.

As with existing Drivers, Drivers replaces Customisations:


Each driver is associated with a specific livery.
 
Your driver earns XP by driving
 
Levelling up drivers will give a small boost to all 4 stats: Top Speed, Brakes, Acceleration and Grip
 
Driver XP will remain on the car throughout all events and content.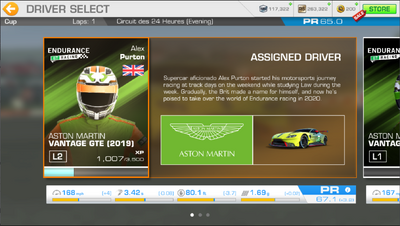 Driver Select

When entering a Special Event that uses the new car power system, players choose a driver for the car they select

Teams can have 1 or more drivers
 

For 8.5, Formula E cars will have 2x drivers per car and Le Mans cars will have 2-3x fictional drivers per car, each with their own unique livery
 

If this is the first time the car has been chosen in an event, no driver should be pre-selected
 
If any of the car's drivers has XP, the driver with the most XP will be pre-selected

 
Drivers and Car Stats
Drivers add power to all 4 car stats and consequently increase PR
 
Power added by Drivers is available whenever the car is used
 
Increasing the Driver's level increases the amount they improve all 4 car stats

 
Earning Driver XP
Drivers earn XP by driving

XP per km driven is set per motorsport.
 
XP is given to the driver post-race.
 
More XP is earned for a better race result.

 
Levelling up the Driver
Once the driver has enough XP to reach the level threshold, the driver can be Levelled Up

Levelling Up is accessible from the Driver screen
 
When the driver can level up, the "Level Up" button becomes available
 
Tapping the button will open the Level Up popup showing the cost and PR gain for Levelling Up
 

Levelling Up is instant
 
The driver moves to the next level
 
Their contribution to all 4 car stats is increased
 

If the driver has enough XP to take them past several level thresholds, "Level Up" will be available again for the next level following a Level Up action
Community content is available under
CC-BY-SA
unless otherwise noted.