Raise a Floppa - The Loop
Play Sound
 ! 

Event Archives will be going away on July 24th at midnight GMT
in Jul 24 2021 00:00:00 GMT. Event Archives were removed from the game on July 24, 2021.

 ! 
"
Event Archives
Did you miss out on earning a car in a past Event? Access Limited Time Series and Special Events from previous updates here!
"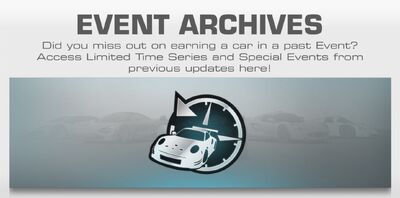 Event Archives Rules
Event selection is determined by your game progress.
There is no time limit to enter an event.
You can skip an event for free, which will send it to the bottom of the rotation back in your archives, so you can play it later.
There is no , , or award for winning an archive event, just the car.
In special events, the completion of one stage will immediately unlock the next.
You can win all the cars in the event archive, but just one per day. As of NASCAR and Bugatti Divo Update (v9.4) the daily limit has been removed
Upon winning or skipping an event, the next event in sequence immediately becomes available to run.
If you timed out or skipped an event to move on to the next one, the one that was missed will become available again upon the next rotation.
The time limit for an archived event is the same as the original event.
The time limit for an archived limited-time series is 7 days.
Upgrade Strategy
For recommended upgrades required to win the car please refer to the RR3 Wiki:Upgrade Strategy Event Archives project page.
Version History
Special Events
Limited Time Series
Special Events
Limited Time Series
Special Events
Limited Time Series
Special Events
Limited Time Series
Special Events
Limited Time Series
Special Events
Limited Time Series