I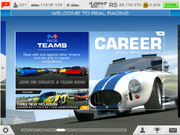 thought about this question a bit.. Perhaps for me it's most important to just be able to actively 'play' and progress. That is, striving to own all cars, complete all series to 100%.
Once them two goals are attained, it will be probably time to move on, come back to special events & new cars.. But recently I have been enjoying WTT events, would like to make team A often, as that stops me having to farm (I now only farm when there is fame daily bonus). Future might bring Team play, Tournaments maybe.. So still horizons to explore.
I have been playing for about 5 to 6 months, daily for most parts. I expect at least 7000r is needed for the cars i dont have, and once i reach 3000r balance i will start to buy the cheapest gold cars:) And gold upgrade few cars to start completing to 100%.