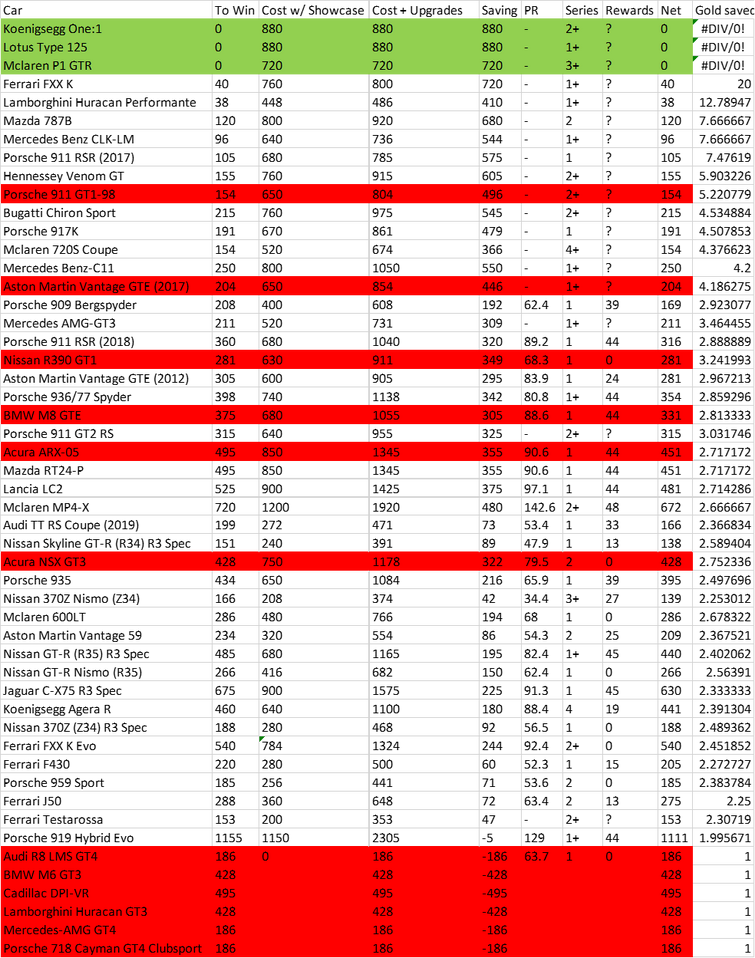 This table gives the cost to win the car via the event archives compared to the cost to get it to the same upgrades without the archives. It also gives an estimate of the rewards (based on my completion and the required PR if known, not used with rec PR). It shows the net cost considering the series completion rewards (based on my own progress), which is useful for budgeting.
By dividing the cost to buy the car (with showcase discount if available) and buy the equivalent upgrades, by the cost of the upgrades used in the archive, I have found the gold value of the car (price+upgrades) gained per gold spent completing the archive. The larger this number, the more efficient use of resources. If you choose to do one of the archives, it is probably better to choose one with the best gold gained value per gold spent. i.e, spending 215 gold to earn the Chiron gets you a car with upgrades worth 4.5 times that (=975 gold).
Some cars are useless (GT4s if you already own one), so irrespective of the saving are not worth buying. I have only included cars I do not own although I have already included some that I have recently completed (and some that are useless, I have not bothered calculating). If you change the values, the J50 is actually still quite inefficient despite its sale.
It is a simplification, not considering sales, WTT rewards, enjoyability, whether you can actually do the rec PR ones at those upgrades, but it should give a useful outline and shows some to do or avoid.